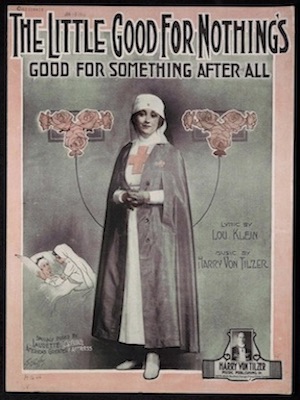 The Little Good for Nothing's Good for Something After All
Harry Von Tilzer Music Publishing Co.
|
1918
Live Version
https://resoundingthearchives.org/sites/default/files/14%20Little%20Good%20For%20Nothing%27s%20Good%20For%20Something%20After%20All.mp3
Studio Version
https://resoundingthearchives.org/sites/default/files/Little%20Good%20for%20Nothing_studio.mp3
Sheet Music
Student Essay
Women in Public
The song "The Little Good For Nothing's Good For Something After All" is a bit satirical and plays on the trope of self-deprecation. The lyrics begin with, "It's funny how a nickname clung to little Marry-Brown", establishing the voice of the person singing as a third-person onlooker, rather than a first-person narrative. The lyrics go on to describe how this Mary-Brown was a "wild-child" and nicknamed "Good for Nothing" by her peers when she was young. This deprecating nickname is only liberated when she finds her calling as a nurse for the Red-Cross during the war. The lyrics imply how Mary-Brown, a nobody from a no-name town, finds herself full of purpose and as a heroine-like figure after she joins the war effort. This romantic serenade uses stepwise motion in prolonging the tonic. Tension in the chord structure of this piece is held in the stepwise, and sometimes chromatic motion of the melody creates a welling feeling that only resolves when coming back to tonic or the fifth scale degree within the cadences of the music.
In 1918, the Tin Pan Alley composer Harry Von Tilzer published "The Little Good For Nothing's Good For Something After All" when Victorian ideologies were being shed, and women were pushing to gain the right to vote. The turn of the 20th century marked a break from "...the discipline, sobriety, thrift, and sexual repression that formed the core of Victorian culture" (Lipsitz, 6). This shift gained momentum in favor of the feminist movement, as women could be released from the confinement of their homes and families, into more autonomous members of society. Although women lacked the right to vote until after the war, women's organizations focusing on specific facets of political and social voice for women, such as The Women's International League of Peace and Freedom and The National Association of Colored Women, gained publicity as a larger platform emerged where women did not have to be the quiet and modest stereotype that Victorian culture idealized. However, the success and inclusivity of these pro-women's rights groups must be acknowledged as a mainly white female demographic, with much less representation for women of color in this feminist movement.
As more and more women became activists and public voices fighting for their social and political rights, traces of their narratives can be heard through the music performed during this era. These living pieces of art and music can be credited to the advancements in technology for mass publications, and the prevalence that Tin Pan Alley had on influencing the sheet music industry. With the increase in patents and automated machines leading up to WWI, mass printing and selling of sheet music also picked up momentum. Businesses and musicians flocked to the sheet music powerhouse of Tin Pan Alley in New York, hoping for their sheet music to be printed and sold in mass quantities to eager consumers. These songs and performances incurred the importance and marketability of music in popular culture, but also incurred the visibility of the topics about which sheet music was written.
Related Resources
Boissoneult, Lorraine. "The Women Who Fried Donuts and Dodged Bombs on the Front Lines of WWI." Smithsonian.com. Accessed Mar 17, 2018. https://www.smithsonianmag.com/history/donut-girls-wwi-helped-fill-soldi....
Braybon, Gale, and Penny Summerfield. Out of the Cage: Women's Experiences in Two World Wars. London: Pandora Press, 1987.
Cott, Nancy. The Grounding of Modern Feminism. Connecticut: Yale University Press, 1987.
Crawford, Richard. America's Musical Life. New York: W.W. Norton, 2001.
Hacker, Barton C. "Women and Military Institutions in Early Modern Europe: A Reconnaissance." Signs 6, no. 4 (Summer, 1981): 643-671.
Lubin, David. Grand Illusions: American Art & the First World War. New York: Oxford University Press, 2016.
National Museum of American History. "Women in World War I." Accessed Mar 17, 2018. http://americanhistory.si.edu/collections/object-groups/women-in-wwi/music.
Von Tilzer, Harry. The Little Good for Nothing's Good for Something After All. The Harmony Four. Edison Blue Amberol Recordings, 1918. http://www.library.ucsb.edu/OBJID/Cylinder5755.
Written by
Student Image: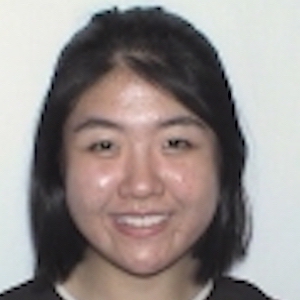 Student Bio:
Christina Kim is a fourth-year student at the University of Virginia, double majoring in English and Music. She is accepted into a master's program for English Teaching after she graduates, and plans to pursue her career path as a teacher. In her free time, she practices classical and improvisational cello, travels, and is always on the lookout for a good book.
Song Information
Title:
The Little Good for Nothing's Good for Something After All
Publisher:
Harry Von Tilzer Music Publishing Co.
Publisher Location:
New York, N.Y.
Composers:
Words by Lou Klein; Music by Harry Von Tilzer
Recording Information
Performers
Student Image: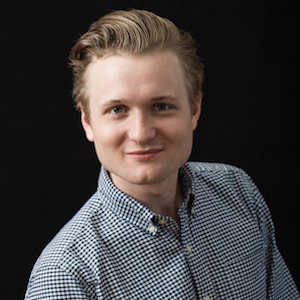 Student Bio:
James Stevens is a second-year graduate student pursuing a degree in Vocal Performance in the studio of Professor John Aler at George Mason University. His recent Mason Opera appearances include Albert Herring in Benjamin Britten's Albert Herring, Lord Tolloler in Gilbert and Sullivan's Iolanthe, and King Kaspar in Menotti's Amahl and the Night Visitors. His recent concert appearances include singing with the Central Maryland Chorale and the Symphonette at Landon.
Student Image: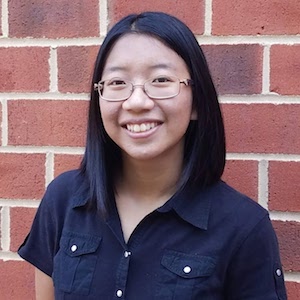 Student Bio:
Faith Ellen Lam is a sophomore Honors College student at George Mason University where she is a dual major in Music Performance and English. She is in the piano studio of Dr. Linda Monson. She has performed in such prestigious halls as Weill Recital Hall in Carnegie Hall, New York, and the Millennium Stage at the Kennedy Center, and has been invited to play in numerous masterclasses with artists such as Stanislav Khristenko, Jeffrey Siegel, and the Ensemble da Camera of Washington.
Live Version
Recording Date:
04/24/2018
Recording Location:
Colonnade Club, University of Virginia
Producers
Student Image: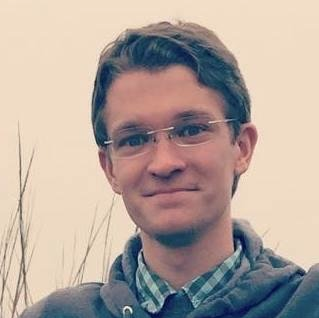 Student Bio:
Eli Stine is a composer, programmer, and educator. He is currently pursuing a Ph.D. in Composition and Computer Technologies as a Jefferson Fellow at the University of Virginia. Stine's work explores electroacoustic sound, multimedia technologies (often custom-built software, video projection, and multi-channel speaker systems), and collaboration between disciplines (artistic and otherwise).
Studio Version
Recording Date:
5/15/2018-5/16/2018
Recording Location:
Gottlieb Chamber Studio, George Mason University
Producers
Student Image: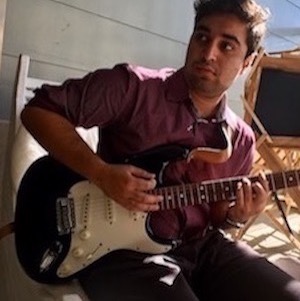 Student Bio:
Talha Mirza's passion for a career in music began in the guitar program at Robinson Secondary School in Fairfax, VA where he earned an Advanced Diploma in 2015. His love for teaching was inspired by his experience teaching with Music For Life, the Mason Community Arts Academy, and the Fairfax County Public School system where he saw the impact music had on others. Talha continues to teach while pursuing a Bachelor of Music degree with a concentration in Music Technology and a minor in Audio Production at George Mason University. He also studies classical guitar and has composed music for award winning short films premiered at the University of Virginia, George Mason Film Festivals and Cannes Film Festival.
Student Image: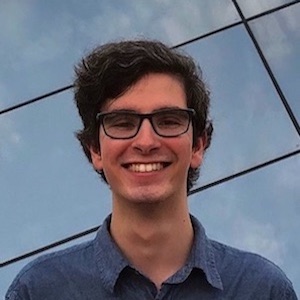 Student Bio:
Massimo Zaru Roque is a Senior at George Mason University, pursuing a B.M. in Music Technology with a Recording Emphasis. He has shown a love for music both in the studio, behind the scenes, and on the stage, working as a Studio Recording and Mixing Engineer, Live Event Recording Engineer, and as a Jazz Bassist and Vocalist in many of Mason's Jazz ensembles. Massimo is passionately studying as an intern at Bias Studios in Springfield, VA, to experience the professional world of studio engineering in the D.C. area. He is incredibly thankful for all the experiences that have been available with George Mason's School of Music, and is indebted to the fantastic education and opportunities he has received there.
Student Image: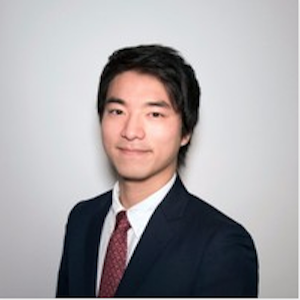 Student Bio:
Kyotaro Terai is a graduate of George Mason University School of Music with a Bachelor of Music in Music Technology and a minor in Business. As a composer, he has written music for GMU-TV, School of Film, and the School of Music. Currently, he resides in Los Angeles interning for Roland US.
Song Transcription
[Verse 1]
It's funny how a nickname clung to little Mary Brown
They called her good-for-nothing, a tomboy 'round the town
As she grew up where'er she'd go they'd call her by that name
But if she's good-for-nothing angels must be just the same.
[Chorus]
They always called her little good-for-nothing
Just because like other children she was wild
Tho' she wasn't all to blame
Still she couldn't bear the name that clung to her since she was but a child
But now she's over there, she joined the Red Cross
Giving up her life at duty's call
And the ones that used to sneer are the first ones now to cheer
The little good-for-nothing's good for something after all.
[Verse 2]
In her hometown they used to frown but now you'll hear them say
I knew our good-for-nothing would make us proud some day
It may be strange but still it's true how often you will find
The one's we thought were angels turned out just the other kind.
[Chorus]