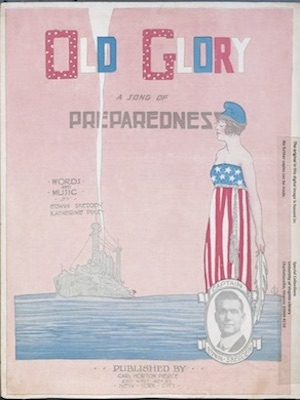 Old Glory: A Song of Preparedness
Carl Horton Pierce
|
1916
Live Version
https://resoundingthearchives.org/sites/default/files/13%20Old%20Glory.mp3
Studio Version
https://resoundingthearchives.org/sites/default/files/Old%20Glory_studio.mp3
Sheet Music
Student Essay
A War of Words: Music and the American Journey to the Western Front
Imagine: you just turned 18. You are newly graduated from high school and unsure of your future. For now, college has been put on hold. Your parents are split on an issue very salient at the time: your dad wants the U.S. to fight in Europe with the allies, but your Mom, like many women at the time, thinks that America should stay neutral. While perusing some stores after dinner in town one evening, you spot a score of sheet music through a shop window. Its cover is simple yet provocative: a young woman graces the front, bidding farewell to a ship destined for Europe. You go in and take a further look. Upon hearing the piece played by a friend, you make up your mind and decide to enlist in the Army.
"Old Glory: A Song of Preparedness" by Edwin Skedden captures the United States on the brink of joining the Allies in War War I and serves to physically and psychologically mobilize the masses to join the war effort. The lyrics, "Ready to defend her rights," suggest that joining the allied war effort would entail defending the values that America holds, a premise which also seems to suggest cowardice if someone chose not to undertake such a challenge. Further lyrics such as, "We'd sooner die than see the day Old Glory called in vain," assumes the passions of men in the United States and foretells their actions on the front lines. Finally, "Every man for Uncle Sam, will fight unto the end," means that once a man does go to the war, he will do whatever it takes to make Uncle Sam and his country proud. It's almost as if these lyrics complete a circle, a circle that starts from preparedness ("Ready to defend her rights") and ends with fighting until death once on the battlefield ("will fight unto the end"). Clearly, even if a connection wasn't intended to be made by the composer, the song's rejection of Wilson's doctrine of isolationism clearly depicts Skedden's own stance and certainly many other Americans. He chooses to illustrate this idea, with the help of his publisher, Carl Morton Pierce, through concise yet poignant lyrics, no advertisement of other works, and careful hand-drawn cover illustrations. Skedden chooses to leave the interpreter with little to ponder; he knew exactly what he had to do to get his message across. Ultimately, Skedden's message and many others like it pushed the United States to the brink of war.
Related Resources
Bryan, Alfred, and Al. Plantadosi. "I Didn't Raise My Boy to be A Soldier." New York: Leo. Feist, 1915.
Daughtry, Martin J. "Section 1: Sonic Materiel; Belliphonic Sounds and Indoctrinated Ears: The Elements of Wartime Audition." In Listening to War: Sound, Music, Trauma, and Survival in Wartime Iraq. New York: Oxford University Press, 2015.
Eksteins, Modris. "The Cultural Legacy of the Great War." In The Great War and the Twentieth Century, edited by Jay Winter, Geoffrey Parker, and Mary R. Habeck, 331-350. New Haven: Yale University, 2000.
Essex, Tony, and Gordon Watkins. The Great War. Documentary. Directed by John Terraine and Corelli Barnett. London: British Broadcasting Corporation, 1964.
Kennedy, Kate. "World War One and Classical Music." Published January 29, 2014. Accessed March 31, 2018. https://www.bl.uk/world-war-one/articles/classical-music.
Murdoch, Brian. "When This Bleeding War is Over: Songs of the First World War." In Fighting Songs and Warring Words: Popular Lyrics of Two World Wars. Oxfordshire: Taylor and Francis, 1990.
Pike, Katherine, and Edwin Skedden. "Old Glory: A Song of Preparedness." New York: Carl Horton Pierce, 1916.
Watkins, Glenn. Proof Through the Night: Music and the Great War. Oakland: University of California Press, 2002.
Written by
Student Image: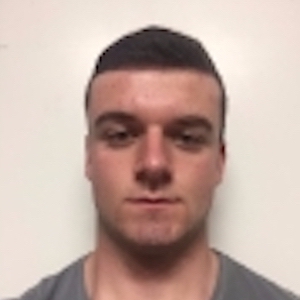 Student Bio:
Andrew Holmes is a student researcher in Professor Ozment's ReSounding the Archives class. He is from Cleveland, Ohio and is pursuing majors in Music and Government. While he has family in Charlottesville, he is proud to be part of the out-of-state UVA community. He is excited to share his research that he has compiled from the University's amazing resources.
Song Information
Title:
Old Glory: A Song of Preparedness
Publisher:
Carl Horton Pierce
Publisher Location:
New York, N.Y.
Composers:
Words by Edwin Skedden; Music by Edwin Skedden & Katherine Pike
Recording Information
Performers
Student Image: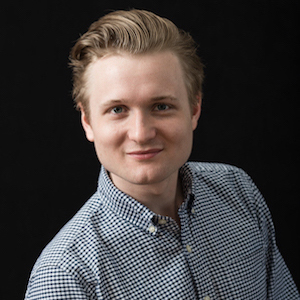 Student Bio:
James Stevens is a second-year graduate student pursuing a degree in Vocal Performance in the studio of Professor John Aler at George Mason University. His recent Mason Opera appearances include Albert Herring in Benjamin Britten's Albert Herring, Lord Tolloler in Gilbert and Sullivan's Iolanthe, and King Kaspar in Menotti's Amahl and the Night Visitors. His recent concert appearances include singing with the Central Maryland Chorale and the Symphonette at Landon.
Student Image: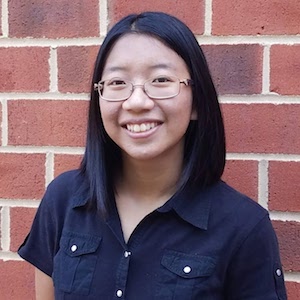 Student Bio:
Faith Ellen Lam is a sophomore Honors College student at George Mason University where she is a dual major in Music Performance and English. She is in the piano studio of Dr. Linda Monson. She has performed in such prestigious halls as Weill Recital Hall in Carnegie Hall, New York, and the Millennium Stage at the Kennedy Center, and has been invited to play in numerous masterclasses with artists such as Stanislav Khristenko, Jeffrey Siegel, and the Ensemble da Camera of Washington.
Live Version
Recording Date:
04/24/2018
Recording Location:
Colonnade Club, University of Virginia
Producers
Student Image:
Student Bio:
Eli Stine is a composer, programmer, and educator. He is currently pursuing a Ph.D. in Composition and Computer Technologies as a Jefferson Fellow at the University of Virginia. Stine's work explores electroacoustic sound, multimedia technologies (often custom-built software, video projection, and multi-channel speaker systems), and collaboration between disciplines (artistic and otherwise).
Studio Version
Recording Date:
5/15/2018-5/16/2018
Recording Location:
Gottlieb Chamber Studio, George Mason University
Producers
Student Image: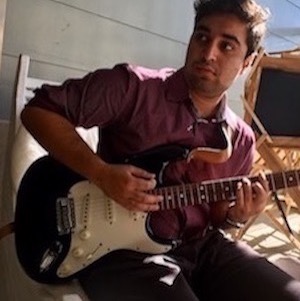 Student Bio:
Talha Mirza's passion for a career in music began in the guitar program at Robinson Secondary School in Fairfax, VA where he earned an Advanced Diploma in 2015. His love for teaching was inspired by his experience teaching with Music For Life, the Mason Community Arts Academy, and the Fairfax County Public School system where he saw the impact music had on others. Talha continues to teach while pursuing a Bachelor of Music degree with a concentration in Music Technology and a minor in Audio Production at George Mason University. He also studies classical guitar and has composed music for award winning short films premiered at the University of Virginia, George Mason Film Festivals and Cannes Film Festival.
Student Image: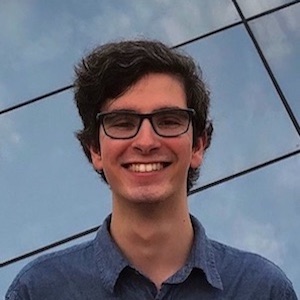 Student Bio:
Massimo Zaru Roque is a Senior at George Mason University, pursuing a B.M. in Music Technology with a Recording Emphasis. He has shown a love for music both in the studio, behind the scenes, and on the stage, working as a Studio Recording and Mixing Engineer, Live Event Recording Engineer, and as a Jazz Bassist and Vocalist in many of Mason's Jazz ensembles. Massimo is passionately studying as an intern at Bias Studios in Springfield, VA, to experience the professional world of studio engineering in the D.C. area. He is incredibly thankful for all the experiences that have been available with George Mason's School of Music, and is indebted to the fantastic education and opportunities he has received there.
Student Image: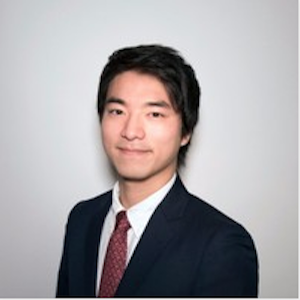 Student Bio:
Kyotaro Terai is a graduate of George Mason University School of Music with a Bachelor of Music in Music Technology and a minor in Business. As a composer, he has written music for GMU-TV, School of Film, and the School of Music. Currently, he resides in Los Angeles interning for Roland US.
Song Transcription
[Verse 1]
In our land of peace and freedom,
Underneath the Stars and Stripes,
Where true hearts are ever ready,
Ready to defend her rights.
Should she ever call for heroes, then throughout the nation wide,
Men of ev'ry creed and color, would be marching side by side.
[Chorus]
For if Old Glory calls us all to arms our country to defend,
Then ev'ry man for Uncle Sam will fight unto the end.
Old Glory's call we will obey,
And then in freedom's name,
We'd sooner die than see the day
Old Glory called in vain.
[Verse 2]
So, while peace and love are reigning,
Over all our land so free
And our national honor guarding all our rights to liberty,
Should Old Glory e'er be slighted, North and South and East and West,
Will arise and face the foe-men of these fair United States.
[Chorus]